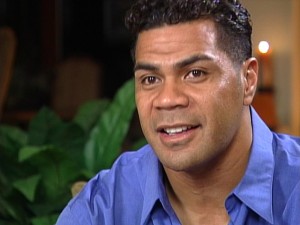 After the big game, how will you get your football fix? How about reading players who have traversed the Roads to the Super Bowl…  standouts Drew Brees and Junior Seau… or about those who dream of going or imagined playing in the national spotlight when they were  just a kid in Pop Warner?  The  pain, the work, the disappointment… what does it take to make it to the top? To seek that glory? To handle the pressure? I'm grateful I've been able to talk to many stellar athletes who have  shared their stories. Here are two.
After having been to one Super Bowl with the Chargers, and the Super Bowl was in San Diego in 2003, Junior sat down with me for a One on One and offered some perspective. He  couldn't know he would return another time with the 2007 Patriots, or that he would face another tough loss, that time to New York Giants. But as the Championship game was coming to his hometown, as we sat in his living room, with lights and cameras,  I asked a sentimental Seau: "Is that Super Bowl ring still pulling you? Is that the ultimate for you?" He told me: "I have rings in life." He listed accomplishments including family, friends, and his foundation's community work. "I'm proud of those rings. So for me to say that I'm going to give all that up for a Super Bowl? You know what? I'll take my rings of life. So, am I after one?Yes. But I already won."  (Page 256)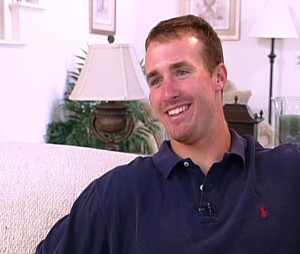 Drew was new in the NFL the two times I interviewed him One on One (2002, 2005.) A Super Bowl was a few years away when he moved on from San Diego to New Orleans to lift that city's spirit and the team to a championship. Being an MVP,  and taking the Saints into the playoffs again, are not surprising feats when you look to those early signs.  Even as a quarterback with the Chargers, Drew recalled in 2005, "I got the same thing that I got coming out of high school, which was, you're too short, you're too slow, not strong enough arm." But his underdog determination, and support from people like his Purdue coach Joe Tiller, carried him forward as a young player especially. Coach Tiller said of Drew's college years, "Drew's always been a confident guy; a great quality to have in the sense that if he does throw an interception, or he does make a mistake out there, he's on to the next play mentally."  And whether, over the years, there have  been compliments or criticism, Drew's approach seemed consistent: "Whether it's bad or good. What people are saying, it's not going to help you win the next game."
The exchange between then teammates La Dainian Tomlinson and Drew Brees, sitting on their couch reflecting on successes they had to that  time, included this: LT "We were faced with a challenge and we looked at it dead in the face and we answer it and we became champions. DREW: I think it just goes to show you that if you believe it can happen, you can will it to happen, then it will." (Page 466)
It doesn't happen for everyone. There will always only be one champion at the end of each season. But the dream, the hope, the goal? That is fuel to keep the competitive fire going… for the Super Bowl, or the game of our lives.
Enjoy the game. Enjoy  and make the most of your journey.