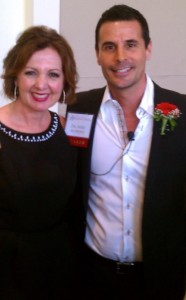 When my dear friend Mike Moreno and I were having dinner, catching up on life back in September of 2008, he told me about his idea:  Walk with Your Doc. I immediately said, "WOW. Great concept. Great goal. We have to tell others about this!" On two different occasions, when I was with Channel 4 San Diego, I attended his Walk with a videographer to document the development of this early-morning motion mission.
It was the beginning of an unexpected trajectory of success beyond his vision or imagination. Dr. Mike, as he's called, has connected with patients and people who want to make a change in their health by losing weight. Many are gaining confidence that they can. And along the way they are feeling good about–as he urges so passionately– just moving!
Mike and I were guest speakers at the 2012 San Diego Women's Week. He was one of only a few men in a room full of women, and with his charisma, humor and credibility, offered some fairly simple remedies for what each of us can do to take care of ourselves and improve our health.
While he is often busy spreading the diet and walking word to groups in the national media, and through his books, his message is sincere and from the heart, because he is a doctor first. In fact, as if 12-14 hour days weren't long enough back in 2008, his commitment led to his unique "prescription."  Rewind to December 2009 when I first told the story on our sports Postgame show. It was a story I thought important for fans of all ages and athletic inclination to hear because it could help and inspire so many. Indeed it has, and it all began with a first step.(Read the script below or watch the video as it originally aired.)
During Mike's first year of the "Walk with Your Doc" idea, he became a regular guest on the nationally syndicated show "The Doctors" www.thedoctors.com  In 2010, in conjunction with "Dr. Phil"  www.drphil.com Mike released the first of his "17-Day Diet" books, in several languages, helping millions people all over the world.
He suggests a minimum of 30 minutes of walking or exercise at least 2-to-3 times a week. For more on his books and tips to get and stay healthy,  go to his new website www.drmikediet.com   Get walking! Your health and heart will thank you for it.
The story transcribed: Jane's Narration in BOLD
Dressed in scrubs and a smile, Doctor Michael Moreno zips up the stairs of his Kaiser clinic in Rancho San Diego greeting every work day as an adventure
JANE What do you love about your job?
MIKE It's different. It changes, from one exam room to the next. You can go from seeing a 3-year-old to a 90-year-old. I learn probably as much or more from my patients as they learn from me.
JANE  Like what?
MIKE  I have a lot of elderly people that I take care of and a lot of them have been married sixty or sixty-five years and… it just blows me away
Mike to patient Is there any history of cancer or other conditions in your family?
And he always asks a patient if they're exercising.
MIKE And if there's a stall I know the answer's no because to me it's a "yes-no" question.  It was a patient of mine who said they had stopped exercising because they didn't have anyone to exercise with and I thought to myself, well you know, I don't exercise with anybody. I said, but you know, you could exercise with me if you wanted to.
The light bulb went off in the fall of 2008. Flyers went up: "Come Walk with Your Doc… Tuesdays and Thursdays 7AM." Dr. Mike began his experiment under moonlight and with anticipation of who would show up by daybreak. 
MIKE The first day we had about eight people. It was great.  Then it grew and then there were fifteen and then there were twenty. The most we had was about thirty-five people. People will bring their dogs. And there are parents pushing strollers and it's quite a scene.  Sometimes they ask medical questions, sometimes about their own situations and sometimes about friends or family members.
Mike Moreno's sincere bedside manner comes from his life experience. The youngest of seven children, he was raised by his parents in California's San Joaquin Valley and Visalia. His mother, especially, encouraged education.
MIKE She was a teacher for forty years.   My father worked in janitorial, worked in high schools, grocery stores and things like that.
The young Mike was fascinated by science, inspired to follow in his oldest brother Mark's footsteps of becoming a doctor when they lost another brother, Jerry, in a motorcycle accident.
MIKE Sort of the whole idea of life and the quality of life, and loosing someone or having the ability to save someone: it kind a struck that chord.
From UC Irvine, to medical school in Philadelphia, residency in Fontana, and a decade of family practice in San Diego…
MIKE I've been fortunate, or unfortunate, depending on how you look at it, to have been through a lot of things and a lot of experiences.
Including losing his 82-year-old father to heart disease. Bianca Pitti's father, who has diabetes, is Dr. Mike's patient.
BIANCA He's always on my dad's case to try and get out and try to get him working and exercising. So that's why I — that's the only reason why — I started (walking). He's been on my dad's case to get out, so we're gonna. We're gonna work on it.
Even on our second visit to a Walk with Your Doc, the enthusiasm is evident. 
Linda Bittner Oh, he's terrific. He's a good doctor and he's a lot of fun and he's busy and active, so it makes you want to do something. I see all kinds of people. Young and old. And it's just great to get everybody together and it's fun to visit along the walk.
JANE Are you feeling a difference by coming out and doing this in the mornings?
DONNA 1 Oh my goodness, yes, just feel absolutely wonderful. In fact we go the second mile.
JANE Oh, really.
DONNA 2 We usually make two laps around. We leave everybody else in the dust. So we figure we better go around twice to make up for it.
Dr. Mike's mantra: Exercise is a great stress reducer.
MIKE It's the cheapest medicine there is. It has the least side affects, it's nothing but benefit and it's that one wonder pill that we're all looking for and it doesn't come in a pill! And it's free and it fixes. It doesn't fix — but it helps a lot of things. And I think it can make a big difference.  And where this country's headed in terms of its healthcare, there are just so many different things that it will affect.
Colleagues applaud him.
Dr. NEETHI Ratnesar (Kaiser, Pediatrician) He's just very motivational and charismatic and I think that it's really drawn a great crowd. Not only of his patients, but of other physicians' patients and his staff. So it's been really a positive effort.
MIKE Why can't doctors exercise with their patients? It takes a little time, but it's not a lot of time and the benefit that you get is tremendous. It started at this little clinic. And it started with us doing our little walk and you know? Eventually I would love to push it to other clinics and throughout San Diego and as far as it will go. 
Mike to patients Thanks for coming! See you next time!
***