Saturday in London started as Friday night's spectacular and uniquely British Opening Ceremonies, fireworks display went well past midnight. Friday the French friends I'm staying with and I alternated between watching the quality BBC coverage and leaning over the balcony (slightly) to see the stadium lights and action. When it appeared the flame presentation was near, three of us went down to the street for a view of the top of the stadium, just a few blocks across the train tracks, which indeed erupted with 2-minutes of brilliance and a round of applause from the small neighborhood crowd.
Energized knowing the competition would begin today, I put on my running shoes for a quick run on a gray but pleasant day. I ran about 15 minutes back to the Stafford Station and Westfield Mall (the hub of the activity and entrance for the Olympic Park) where one little experience happened after another.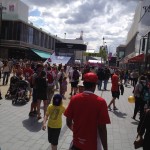 The mall was packed with even more colors on clothes representing home countries. Pink-shirted official Olympic personnel sat high in chairs with megaphones, directing the flow of traffic; essentially a mix of lifeguards and crossing guards, ever so properly polite. Those fans with tickets funneled into the park's entrances.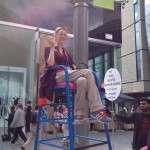 I walked to the end of the largest mall in Western Europe — felt like almost a mile — past the packed Team GB (Great Britain) store and Hollister clothes/surf store. Had I known I was going to meet non-Olympians but clearly "beauty and brains" Rob (in school for marketing) and Fraser (studying engineering) I might have re-thought the no-makeup work out look. But the picture was fun and they were good sports. (I asked if they surfed, and they said it was too cold in England!)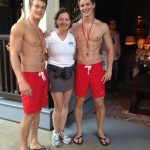 Back to the walk.
The far north end is the athlete and media entrance. With no credential, yet, I chatted with several men with collections of Olympic pins.  Two were from the U.S. and have been to 11 Olympics. (More on that story another time.) Suffice it to say, I gained a greater appreciation of collectors who enjoy the story behind each pin.
Venturing back I spotted a tall man in a blue spandex suit with the British flag. His girlfriend Louise was competing in handball tonight, and he would be part of an enthusiastic cheering section.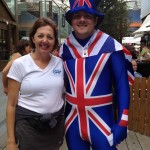 Then, I made a right turn at the area that asked that you have "tickets out and ready." I did not have any, but wanted to check with the pass office on whether my pass had been approved. That took me all the way in to the Olympic Park's edge, which was spread out, not crowded, and well organized. The pass was not ready, but they were quite courteous, which I'm coming to expect here.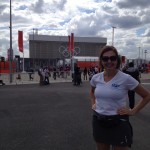 Inside the mall, after a taste of India for lunch and a Yoo Moo yogurt (the Kate and Will special – vanilla with strawberries and blueberries), and a Starbucks (in the only country in the world whose tall latte is two shots of espresso) I saw someone else outside a store "modeling" while holding three stuffed toy dogs. I asked  if he was being dared to do it.  No. The tall young man dressed in Serbian Olympic Team attire said h was holding the dogs while the store clerk retrieved her camera for a picture.
When he detected my American accent, George Markovic offered that he went four years to Ohio State University, which he loved. I asked when he would be competing, to learn he had already raced in the 400-meter at the pool. While he offered he swam his best, he was knocked out of the race, and felt okay about it.  Now, he was looking forward to eating things that were bad for him. We exchanged contact information, and I hope to talk with him more about what it's like to train so long and hard, then be out of it the first day. He seemed to have a very good perspective, grateful to be an Olympian.
And really, that was the big take away of Saturday. Because as significant as winning a medal is –and certainly that is the goal — setting the sights on that, working toward that, and giving your all on your day… is all you can ask of yourself, or of your Olympic representatives. George is working on his Masters Degree, and is hanging out with his best friend and family. So it appears he'll be fine. He just needs a little dietary freedom to eat some junk food.