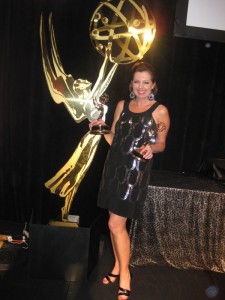 The 27-time Emmy® Award-winning Jane Mitchell is an accomplished broadcast journalist who is active in her community and supports many charitable causes including ALS (Lou Gehrig's Disease.)  Her passion for storytelling stems from growing up in a Navy family, traveling the world and being encouraged by her mother, who was a teacher, to write about her experiences.
From 1997-2011, Jane produced and anchored One on One with Jane Mitchell, a television show giving viewers an in-depth look at San Diego's top sports figures from young stars to veterans and Hall-of-Famers. She was never a big sports fan, but fell in love with baseball at her first spring training experience in 1997. She brought her newfound appreciation for baseball and football to the show, but more than that, peeled back the layers of a player's often rough and tough game-day facade to reveal the many layers of struggle, success, triumph and tragedy, humor and humility that make them who they are on and off the field. Their vulnerabilities and strengths are revealed in a way that is appreciated by the players and welcomed by new fans and die-hard fans alike.
One hundred shows are in the archives with interviews of such favorites and greats as Ken Caminiti, Tim Flannery, Tony Gwynn, Trevor Hoffman, Jerry Coleman, Ted Williams, Jake Peavy, Ryan Klesko, Doug Flutie, LaDainian Tomlinson, Drew Brees and Junior Seau.  Those and more are featured in her book. In 2015, Jane returned to Channel 4 San Diego to revisit 12 shows featuring "Legends" and update their stories. For those who had passed away, she included the public memorial services  paying tribute to their life. Those shows are available online.
In 2010, she ventured into a new career dimension by writing and releasing the book One on One – My Journey with Hall of Famers, Fan Favorites and Rising Stars. She has won many awards for her television work, but calls the television show, and writing the book about it, rewarding and a labor of love.
A graduate from the University of California, San Diego with Political Science honors, Jane is happy to be based in her hometown.  She has a Master of Science in Journalism from the prestigious Medill School of Journalism at Northwestern University in Chicago.  Jane began her broadcast career in Wichita Falls, Texas, and Tulsa, Oklahoma, reporting on everything from teacher strikes to tornadoes.  She returned home as a producer and reporter at KNSD-TV, then joined Cox Communications to produce and report for a special channel for the Republican National Convention in San Diego.  Following that, Jane was hired to help create Channel 4 San Diego. She was with the station for the 15 years of the Cox/Padres contract. In 2012, Jane launched her boutique media company, One on One Productions, and covered the London Olympics.
Her biggest and best production yet is having her baby, Lily, in 2013 at 50 years old.  Jane volunteers at various community events and, in honor of her father who died of Lou Gehrig's disease, leads the Advisory Council of the Greater San Diego Chapter of the ALS Association.  Along with her toddler and 91-year-old mother, she enjoys staying fit, playing the piano and playing tourist and traveler in San Diego and around the world.